Finding high quality childcare that works best for you, your child, and family doesn't need to be a lengthy, stressful process.  In Allegheny County the local Early Learning Resource Center (ELRC) is ready to assist you with finding quality childcare or assisting you in applying for the childcare subsidy. Learn if you are eligible and contact the ELRC Region 5 below.
Navigating Early Childhood Education and Care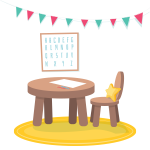 There are many different types of early childhood education and care settings to choose from. From child care centers to care in a home setting this graphic can help you better understand each type of setting so that you can make the best-informed decision for your family.
Birth to Kindergarten Supports
Local Resource
Early Learning Resource Center (ELRC)
The ELRC provides a single point-of-contact for families and communities to gain information and access to high-quality, accessible, and affordable early learning opportunities. Contact the ELRC today!
Hours of Operation
Monday-Friday 8:00 a.m.–5:00 p.m.
Toll-free phone 1.888.340.3572
Phone 412.350.3577
Fax 412.350.3575