Are you feeling afraid or unsafe in your home? Do arguments with your partner sometimes turn violent?  If so, there are many resources and services available to assist you, whether you need help to leave, a place to go, assistance with children or just someone to talk to. Contact the National Domestic Violence Hotline, any time day or night, at 800-799-SAFE (7233) or 800-787-3224 for TTY. If you're unable to speak safely, log onto the www.thehotline.org or text LOVEIS to 22522. You'll be connected with an advocate and to local services.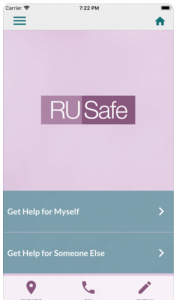 The RUSafe App is a free, interactive app that works on any device and assesses the potential for violence and harm in a dangerous relationship. It connects you with nearby shelters and domestic violence hotlines using GPS technology and contacts 9-1-1 directly if you are in immediate danger.
For more information or to find a safe shelter in your area, go to IPV Resources.