Allegheny County has many resources to help residents improve their health and quality of life. Many are free or covered by medical assistance (Medicaid) or other insurance. If you need health insurance or have other related questions, contact 2-1-1 for help by using the live chat on the lower right of your screen, dialing  2-1-1, or texting your zip code to 898-211.
Contained on this page are resources pertaining to:
Perinatal & Postpartum Mental Health
Having a baby is a huge adjustment. You've just gone through an intensely physical experience, your hormones are in a state of flux, and you're responsible for a new, fragile life.  It's no wonder that many new moms experience postpartum depression and anxiety. For most women, these feelings are mild and go away after a few days, but for 1 in 10 women, they can turn into something that lasts longer.
Learn More
The Office on Women's Health website can answer common questions about postpartum depression. Postpartum Support International can support you and your family through this difficult time and provides tips to help your partner understand and support you.
Local Resources
Allegheny Health Network's
The Alexis Joy D'Achille Center for Perinatal Mental Health Center offers a mother-baby intensive outpatient program for women throughout pregnancy and for a year postpartum.  The goal of the program is to strengthen the bond between mother and baby and increase maternal self-confidence.
4800 Friendship Ave
Pittsburgh, PA 15224
---
UPMC Magee-Women Hospital's
Magee Hospital's Behavioral Health Service are designed to meet the needs of women in pregnancy, postpartum, and mid- and late-life.
300 Halket St.
Pittsburgh, PA 15213
---
Healthy Start Moving Beyond Depression
Healthy Start offers the Moving Beyond Depression (MBD) in-home program for mothers experiencing perinatal depression.  Moms in the MBD program receive 15 weekly therapy sessions to build coping skills to combat depression. Women can enter this program prenatally, or postpartum, via referral. Eligibility is determined via a screening process.
Local Resources: Pregnancy & Parental Recovery
There are many resources available if you are struggling with drug or alcohol issues, which can be heightened by the birth of a child or the stress of parenting. If you receive medical assistance, Community Care Behavioral Health (CCBH) can help you find and pay for providers and services. And if you are overwhelmed by depression, anxiety or other disturbing symptoms, contact resolve Crisis Network, a free, 24-hour 365-day crisis service. More options are available at Mental Health Services for Adults and Mental Health Services for Children and Youth. If you are concerned about your or someone else's substance use, find information at Drug and Alcohol Services for Adults.
Pregnancy Recovery
The Pregnancy Recovery Center is an outpatient program offering pregnant women comprehensive care for opioid addiction. The PRC provides office-based buprenorphine treatment, behavioral health counseling, social services, and prenatal care to pregnant and postpartum women with Opioid Use Disorder. For more information, please call 412-641-1211.
300 Halket St.
Pittsburgh, PA 15213
The Perinatal Hope Program offers comprehensive recovery programs for moms-to-be who are struggling with addiction. Participation in the program includes medication-assisted treatment, drug & alcohol counseling, and access to medical experts. For more information, please call  412-578-5575.
4800 Friendship Ave
Pittsburgh, PA 15224
Parental Recovery
UPMC Addiction Medicine Services (AMS) offers a wide range of treatment programs for people with all types of substance use disorders. Additional services include prevention and education, outpatient medical detoxification, medication-assisted treatments and inpatient care.
If you are need of detoxification or withdrawal management services, call 412-246-5278 to be assessed by one of the nurses, Monday through Friday between 8 a.m. and 4 p.m. Call UPMC Addiction Medicine Services at 412-692-2273 (CARE) to confirm clinic availability.
---
AHN Addiction Medicine offers people and families affected by substance use disorders different types of services such as medication-assisted treatment and outpatient therapy.
To find out more about the addiction medicine services and locations call the Center of Excellence at 412-359-4644.
---
The Center specializes in helping patients achieve recovery by offering a variety of services such as medication-assisted treatment, behavioral health counseling, community-based support and guidance from peer recovery specialists and access to a licensed social worker.
For more information, or to schedule an appointment, please call at 412-737-7871. Located in UPMC Montefiore Hospital
9th Floor, South Wing.
3459 Fifth Ave
Pittsburgh, PA 15213
---
Offers individualized and multiple treatment options and plans for patients including manual-guided therapy based upon the 12-step model, medication-assisted treatment, individual, family and group counseling and more.
To learn more about what Gateway Rehab has to offer call 1-866-861-6816.
---
POWER offers a variety of programs and services in the areas of residential and outpatient treatment and recovery support designed to meet the needs of women. For help, call the POWER Line at 412-243-8755.
907 West St
Pittsburgh, PA 15221
---
Tadiso Inc. provides medication-assisted treatment services, with a focus on methadone maintenance and providing group and individual therapy for patients.
For more information about services, please call 412-906-9812
1425 Beaver Ave
Pittsburgh, PA 15233
Intimate Partner Violence / Domestic Violence
Are you feeling afraid or unsafe in your home? Do arguments with your partner sometimes turn violent?  If so, there are many resources and services available to assist you, whether you need help to leave, a place to go, assistance with children and finding a job, or just someone to talk to. Contact the National Domestic Violence Hotline, any time day or night, at 800-799-SAFE (7233) [800-787-3224 for TTY]. If you're unable to speak safely, log onto the www.thehotline.org or text LOVEIS to 22522. You'll be connected with an advocate and to local services.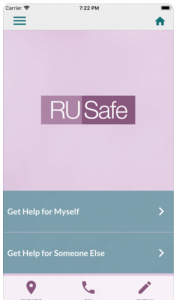 The RUSafe App is a free, interactive app that works on any device and assesses the potential for violence and harm in a dangerous relationship. It connects you with nearby shelters and domestic violence hotlines using GPS technology and contacts 9-1-1 directly if you are in immediate danger.
For more information or to find a safe shelter in your area, go to IPV Resources.